What's New in Release 41
Updated gene trees and homologies

This release includes GOC scores, which will affect the assertion of high confidence orthologs which were missing on the past release.
Funding
Ensembl Metazoa recieves funding from Infravec2, to serve as a data delivery mechanism for that project. Infravec2 is an international and interdisciplinary research project on insect vectors of human and animal disease, including mosquitoes, sandflies and other flies. This project has received funding from the European Unions Horizon 2020 research and innovation programme under grant agreement No 731060.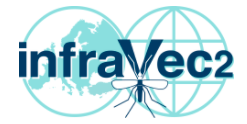 Ensembl Genomes is developed by EMBL-EBI and is powered by Ensembl software system for the analysis and visualisation of genomic data. For details of our funding please click here.